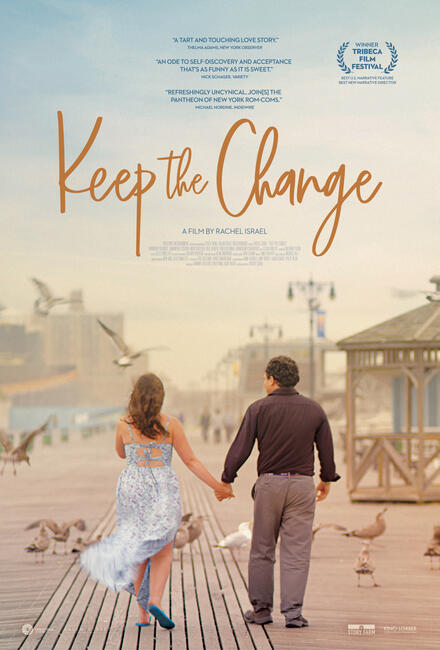 **Below is the short film the feature was adapted from**
One of the redeeming factors from watching certain films I believe is when they can make anything around you fade away and simply allow you to be swept away by the story. One film that fits this would Jean-Pierre Jeunet's 2001 film Amelie; there is a simple joy in viewing this film similar to any works by Charlie Chaplin or Buster Keaton. I would also equate it to being able to take you back to the most basic and innocent part of a person's mind.
Rachel Israel's film Keep the Change won both Best Narrative Feature and Best New Narrative Director at this year's Tribeca Film Festival. Although I had not seen every entry in the festival, after viewing Israel's film I can understand why she was awarded both of these honors. The film is based on a short Israel also wrote and directed two years ago about two autistic people who fall in love. Israel came up with the idea after meeting Brandon Polansky, who also plays the main character David, at an art class. The film follows David as he is forced to attend meetings from an unknown altercation. He has no inhibitions as he is always looking to find a girl to date and has no filter when it comes to telling off hand jokes. David appears to want to downplay his autism as it is obvious he acknowledges it but feels it a negative. I would compare David almost to an autistic Larry David where regardless of the situation he could make everyone in the room cringe and be slightly offended yet you can't help but chuckle.
Through these support meetings is where David meets Sarah played by Samantha Elisofon. Sarah is the complete opposite of David where she acknowledges her learning disability but tries to build on it rather than suppressing it as David does. Sarah is such a sweet and lovable character I couldn't help but smile anytime she was on the screen. Watching David and Sarah grow as a couple is so innocent and natural that you root them on in your head. Although their learning disability is what had brought them together it is by no means the focus of the film. You follow these people through their everyday normal lives and at times it becomes an issue, such as Sarah's inability to censor herself on certain topics or David when he has his uncontrollable ticks, but they are treated in a respectable manner.
Israel used many members of an autistic group as part of the cast. Along with David and Sarah the group is fun to watch interact with each other. It is through an extremely likable cast and Israel's ability to tell such a sweet story that will make viewers fall in love with what they're watching. One of film's fundamental reasons for existing is to allow the viewer to escape but with Israel's film not only are we swept away but after leaving the theater you can't help but feel a bit of innocence and joy embrace you.
Rating
4 out of 5
Film Releases:
Friday March 16th in NYC at Quad Cinema – 7911, 34 W 13th St
Follow the Film:
Facebook – Future Screening Dates